It's no secret that teens and pre-teens across America have fallen head over heels for Bieber....behavior which has ultimately been nicknamed Bieber Fever. Something which one of our clients children has definitely been infected by. We are currently working on a combined birthday party for two girls, one aged 11 one aged 9 (to turn 10 and 12). The younger daughter is set on the idea of a Bieber party...while the older daughter absolutely despises Justin Bieber and wants something more mature, like a carnival party, or spa theme. Therefore....what do we do to combine the two? Especially when these themes don't exactly coincide with one another....at least not well....and not without brawls.
My thought was to set up booths/tables around the yard (since it's a June party, outdoors) and do different carnival booths with prizes. We could build our own booths with wood, or we could use tables, however I'm thinking making the actual carnival booths would give it a more authentic feel....and will be much more impressionable on the kids! We could put up lights to give it a carnival feel if we do the party at night, and if not we could hang balloons and streamers....and of course, play carnival music. We could have several game booths and a couple others such as cotton candy, popcorn, etc. Of course the real food and cake would be separate. To prevent all the children from receiving all of the prizes, we could give each child a certain number of tickets to ensure that each child is guaranteed the same number of games/prizes.
The first could be a kissing booth....but not in the way you're thinking. We could have a jar filled with hershey's kisses and the kids have to guess how many kisses are in the jar. The closest guess wins the jar!
The
second
booth could be the balloon booth, where the kids throw darts at the balloons to break them. This is always a favorite at the carnival...and easily made by our staff.
The
third
booth could be the baseball throw to knock down all of the milk jugs. Another carnival classic that is loved by all...big and small. Didn't intend for that to rhyme.
The
fourth
booth could be the ping pong toss into the fishbowls. I personally was always awful at this game....but some people are really good at it. At carnivals everyone always won goldfish in a bag....but I think we'd get different types of prizes!
The
fifth
booth could be a facepainting booth....it'll add some excitement to the carnival! Maybe not all carnivals have face painting but it is a fun add on for kids who will enjoy it...especially in a setting such as this! While we're at it we can do glitter and neon colored hairspray...kids go wild for that!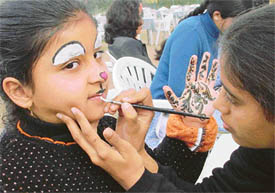 The
sixth
booth could be the Ring Toss game. Another classic carnival game, the ring toss is a must have for any carnival!
The
seventh
booth could be the duck game...in which the kids use a net to pick up a duck from the duck pond. If the duck has a star on the bottom it means they've won, and can select a prize. If not...they can use another ticket to try again.
The eighth booth could be a bouncy castle....or an inflatable slip in slide. Something fun an exciting that the kids can go on, over and over again.
Of course it depends on the budget of the parents for the specific party, however all of these would be excellent activities for a children's carnival party...one that I'd sure love to go to!
Of course
being that one of the girls for this particular party wants a Justin Bieber theme, we can work Bieber prizes into the mix, maybe do Bieber tattoos, and perhaps even add Bieber onto the cake. But after the kids see this, I don't know how they could possibly say no to a fun filled carnival theme party...I know I wouldn't.