So of course I'm slacking a little on the posting....but that happens from time to time. Last week Glamour Girls did a fabulous Ice Cream Sundae Spa party! I know, you might be thinking, spa? Ice Cream? How do those go together? And really, it's quite wonderful!
Our ice cream sundae spa is targeted towards kids in the 5-15 age range, and of course it does vary! Last week we did the party for an adorable set of 8 year old twins, who I might add, were very into it! The spa includes facials, manicures, and pedicures! At Glamour Girls we use Me Bath ice cream spa products, all of which can be found on our website:
Glamour Parties
Let's start off with the facials. Of course as many people may (or may not) know, you must be a licensed esthetician to do an actual facial. Considering how our clients are usually under the age of 12, we don't do anything quite as fancy, however we do use face masks. For the ice cream spa party we do marshmallow flavored masks, which actually smell quite like real marshmallows (it's amazing). We have also had caramel and chocolate flavored masks as well! To top off the facials we do cucumbers on the eyes and let the girls lay back and relax!
As for the manicures, the girls get their nails done up and a hand massage with strawberry flavored lotion! For the pedicures the girls place their feet in a basin of warm water, upon which we insert the flavor bath fizz of their choice. The girls can select from chocolate, vanilla, and strawberry.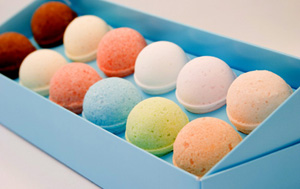 After the bath fizz ends we scrub their feet/legs with chocolate sherbert scrub which the girls loved, since they were laughing and giggling away. After that we dried the girls feet with towels and painted their nails. While their nails dried we coated their legs and feet with icing flavored lotion.
Of course, I think this party would be best topped off with an ice cream sundae bar, or an ice cream cake! At the party this weekend the girls had an ice cream sundae cake, fitting with the theme of course!
We also made the most adorable goody-bags, which included: hair wraps (to keep their hair from their eyes during the facial), sleep masks, two nail polishes, and a manicure set!
Wonderful party of course!